---
The Legacy Continues...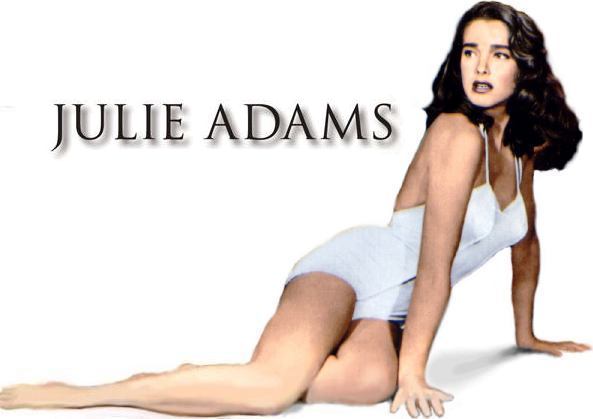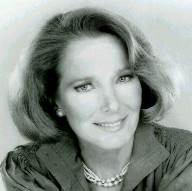 Birth Place: Waterloo, Iowa, USA
Birth Name: Betty May Adams
Born: October 17, 1926
Died: February 3, 2019

After spending her formative years in Arkansas, Julie (Betty May) moved to California and started out as a part-time secretary. While working, she took acting lessons. Her hard work paid off when she was given her first part, a small role in Paramount's Red Hot and Blue (1949), which she followed up with a series of seven quickie westerns produced by Lippert and starring James Ellison and Russell Hayden. She billed herself under her real name of Betty Adams until she was signed by Universal in 1949; she then became Julia Adams, which was modified to Julie by the early 1950s.
Fans of the horror film Creature From the Black Lagoon tend to believe that Julie became a leading lady on the strength of her role in this film as the imperiled--and fetchingly underclad--heroine. In fact, she has been cast in many leading roles in other good films, notably Bend in the River, The Private War of Major Benson, Mississippi Gambler, Bright Victory and Slaughter on Tenth Avenue. Miss Adams feels fortunate to have had the opportunity to work with such wonderful co-stars as Jimmy Stewart, Tyrone Power, Arthur Kennedy, Rock Hudson, Charlton Heston, Elvis Presley, John Wayne, Glen Ford, and Van Heflin. If she had to pick a favorite leading man, it would be her co-star in Bend in the River, Jimmy Stewart. She just loved the job playing his wife on his TV show years later. "Going to work with Jimmy Stewart every day," she said, "Was my idea of heaven." She really feels blessed to have been able to work as an actress in such an interesting variety of roles and with such talented people. She has remained familiar to her fans from her numerous guest starring appearances on television.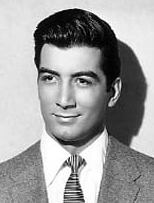 Julie's husband, Ray Danton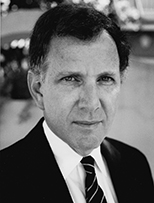 Julie had a longterm
relationship with screenwriter
Ronald M. Cohen
Julie Adams was at one time married to actor/director Ray Danton (see picture at right). Adams and husband Ray Danton worked together a number of times in film and on television. In addition to being in the films The Looters (1955) and Tarawa Beachhead (1958), Adams and Danton guest starred on a January 1972 episode of Rod Serling's Night Gallery entitled The Miracle at Camafeo, and Ray Danton directed his wife in the 1975 horror flick Psychic Killer. Although the couple was married for many years, they divorced in 1981.
After her marriage to Ray Danton ended, Julie had a long-term relationship with screenwriter Ronald M. Cohen, who wrote excellent scripts for films like The Good Guys and the Bad Guys, Twilight's Last Gleaming, and the acclaimed telefilm Last Stand at Saber River, starring Tom Selleck. Julie Adams was still in demand throughout the 1980s on television, and in 1987 accepted a recurring role as Eve Simpson, the real estate lady on the CBS-TV series Murder, She Wrote.
Her most recognized portrayal, was that of Kay Lawrence in the famous sci-fi flick The Creature From the Black Lagoon in 1954.
You can order Julie's autobiography and short film in the store section of this website.


Actress - filmography
Lost: Missing Pieces (TV Mini-Series), 2008, Amelia
Cold Case (2006) playing Dottie Mills, October 29, 2006

"Lost" (2006) Played Amelia on October 4, 2006
Close To Home (2005) played the mother of the serial killer in the pilot episode

Murder, She Wrote (1987-2000) TV Series (episodes The Sins of Castle Cove and Final Curtain)

"Family Law" (1999) playing "Bonnie" in episode: "Second Chance" (episode # 1.21) 24 April 2000
"Sliders" (1995) playing "Old Maggie Beckett" in episode: "Roads Taken" (episode # 4.21) 16 April 1999
"Melrose Place" (1992) playing "Mrs. Damarr" in episode: "A Fist Full of Secrets" (episode # 7.22) 25 January 1999
"Diagnosis Murder" (1993) playing "Edie Fallon" in episode: "Hard-Boiled Murder" (episode # 4.17) 13 February 1997
If It's Thursday, It Must Be Beverly (1987 - 1993) She played Eve Simpson in episodes: 73, 84, 105, 121, 138, 155, 166, 172, 187, 193
"Beverly Hills, 90210" (1990) playing "Grandma Beevis" in episode: "Twenty Years Ago Today" (episode # 4.8) 27 October 1993
"Beverly Hills, 90210" (1990) playing "Grandma Beevis" in episode: "So Long, Farewell, Auf Wiedersehen, Goodbye" (episode # 4.1) 8 September 1993
"Quincy" (1976) playing "Dr. Chris Winston" in episode: "Science for Sale" (episode # 8.7) 24 November 1982
"Cagney & Lacey" (1982) playing "Helen Granger" in episode: "Better Than Equal" (episode # 1.6) 29 April 1982
"Too Close for Comfort" (1980) playing "Sylvia Walker" in episode: "A Fine Romance" (episode # 1.11) 3 February 1981
"Vega$" (1978) playing "Margaret Sorenson" in episode: "Murder by Mirrors" (episode # 3.11) 21 January 1981
"Trapper John, M.D." (1979) playing "Lorrie Malcolm" in episode: "Hot Line" (episode # 1.22) 30 March 1980
"Quincy" (1976) playing "Sharon Ross" in episode: "For the Benefit of My Patients" (episode # 5.10) 22 November 1979
"Incredible Hulk, The" (1978) playing "Ellen" in episode: "Life and Death" (episode # 1.8) 12 May 1978
"Police Woman" (1974/I) playing "Eleanor Simpson" in episode: "Murder with Pretty People" (episode # 4.17) 22 February 1978
"Quincy" (1976) playing "Mrs. Daniels" in episode: "Main Man" (episode # 3.8) 11 November 1977
"This Is the Life" (1952) in episode: "Man in the Middle" 25 May 1977
"McMillan and Wife" (1971) playing "Dorothy Wininger" in episode: "Dark Sunrise" (episode # 6.2) 2 January 1977
"Medical Center" (1969) playing "Ellie Wilke" in episode: "The Stranger" (episode # 7.19) 9 February 1976
"Cannon" (1971) playing "Sylvia Killian" in episode: "The Wedding March" (episode # 5.11) 19 November 1975
"Ellery Queen" (1975) playing "Jennifer Packard" in episode: "The Adventure of Veronica's Veils" (episode # 1.9) 13 November 1975
"Marcus Welby, M.D." (1969) playing "Lee Morgan" in episode: "An End and a Beginning" (episode # 7.7) 21 October 1975
"Mobile One" (1975) in episode: "The Pawn" (episode # 1.2) 19 September 1975
"Streets of San Francisco, The" (1972) playing "Judith" in episode: "Labyrinth" (episode # 3.22) 21 August 1975
"Caribe" (1975) in episode: "The Plastic Connection" (episode # 1.1) 17 February 1975
"Kolchak: The Night Stalker" (1974) playing "Mrs. Avery Walker" in episode: "Mr. R.I.N.G." (episode # 1.12) 10 January 1975
"Lucas Tanner" (1974) playing "Mrs. Walker" (episode # 1.1) 11 September 1974
"Mannix" (1967) playing "Edie Reynolds" in episode: "Little Girl Lost" (episode # 7.4) 7 October 1973
"Search" (1972) in episode: "The Clayton Lewis Document" 14 February 1973
"Mod Squad, The" (1968) in episode: "Scion of Death" (episode # 5.20) 8 February 1973
"Cannon" (1971) playing "Mrs. Lucas" in episode: "Child of Fear" (episode # 2.9) 15 November 1972
"Doris Day Show, The" (1968) in episode: "The Press Secretary" 2 October 1972
"Night Gallery" (1970) playing "Gay Melcor" in episode: "The Miracle at Camafeo" (episode # 2.49) 19 January 1972
"Young Lawyers, The" (1970) playing "Alice Graham" in episode: "And the Walls Came Tumbling Down" (episode # 1.20) 24 February 1971
"Bold Ones: The New Doctors, The" (1969) playing "Lynn Craig" in episode: "An Absence of Loneliness" (episode # 2.7) 24 January 1971
"Dan August" (1970) playing "Patricia Fairley" in episode: "Epitaph for a Swinger" (episode # 1.7) 18 November 1970
"Bold Ones: The New Doctors, The" (1969) playing "Lynn Craig" in episode: "Killer on the Loose" (episode # 2.2) 11 October 1970
"F.B.I., The" (1965) playing "Denise Kriton" in episode: "Blood Tie" (episode # 5.9) 9 November 1969
"Doris Day Show, The" (1968) in episode: "Married for a Day" 27 October 1969
"Marcus Welby, M.D." (1969) playing "Claire" in episode: "Don't Ignore the Miracles" (episode # 1.3) 7 October 1969
"My Friend Tony" (1969) in episode: "Voices" (episode # 1.1) 1969
"Outsider, The" (1968) playing "Laura Carlvic" in episode: "One Long-Stemmed American Beauty" (episode # 1.9) 20 November 1968
"Ironside" (1967) playing "Norma Howard" in episode: "I, the People" (episode # 2.7) 31 October 1968
"Mod Squad, The" (1968) playing "Samantha Semple" in episode: "You Can't Tell the Players Without a Programmer" (episode # 1.5) 29 October 1968
"Big Valley, The" (1965) playing "Janet Masters" in episode: "The Emperor of Rice" (episode # 3.21) 12 February 1968
"Mannix" (1967) in episode: "Then the Drink Takes the Man" (episode # 1.14) 30 December 1967
"Girl from U.N.C.L.E., The" (1966) in episode: "High and Deadly Affair" 1967
"Big Valley, The" (1965) playing "Edna Wesley" in episode: "Target" (episode # 2.7) 31 October 1966
"Virginian, The" (1962) playing "Marian Clay" in episode: "No Drums, No Trumpets" (episode # 4.28) 6 April 1966
"Burke's Law" (1963) playing "Carla Cabrell" in episode: "Deadlier Than the Male" (episode # 3.10) 17 November 1965
"Twelve O'Clock High" (1964) playing "Lt. Betty Russo" in episode: "Big Brother" (episode # 2.5) 11 October 1965
"Perry Mason" (1957) playing "Patricia L. Kean" in episode: "The Case of the Fatal Fortune" (episode # 9.2) 19 September 1965
"Kraft Suspense Theatre" (1963) playing "Joanne Clay" in episode: "Kill No More" (episode # 2.23) 29 April 1965
"Perry Mason" (1957) playing "Janice Blake" in episode: "The Case of the Missing Button" (episode # 8.1) 24 September 1964
"Kraft Suspense Theatre" (1963) playing "Ellen Yarnell" in episode: "The Robrioz Ring" (episode # 1.27) 28 May 1964
"77 Sunset Strip" (1958/I) playing "Anne Kenzie" in episode: "Alimony League" (episode # 6.16) 10 January 1964
"Arrest and Trial" (1963) playing "Eleanor" in episode: "Inquest Into a Bleeding Heart" (episode # 1.9) 10 November 1963
"Perry Mason" (1957) playing "Janice Barton" in episode: "The Case of the Deadly Verdict" (episode # 7.4) 17 October 1963
"Perry Mason" (1957) playing "Valerie Comstock" in episode: "The Case of the Lover's Leap" (episode # 6.23) 4 April 1963
"Gallant Men, The" (1962) playing "Capt. Meg Thorpe" in episode: "A Taste of Peace" (episode # 1.24) 16 March 1963
"Checkmate" (1960) playing "Jean Damion" in episode: "The Someday Man" (episode # 2.29) 2 May 1962
"Dr. Kildare" (1961) playing "Ginny Nelson" in episode: "The Horn of Plenty" (episode # 1.28) 19 April 1962
"Dick Powell Show, The" (1961) in episode: "330 Independence SW" (episode # 1.25) 20 March 1962
"Andy Griffith Show, The" (1960) playing "Mary Simpson" in episode: "The County Nurse" (episode # 2.24) 19 March 1962
"Surfside 6" (1960) playing "Julie Owens" in episode: "Laugh for the lady" (episode # 2.7) 30 October 1961
"Outlaws" (1960) playing "Juill Ramsur" in episode: "Return to New March" (episode # 1.26) 22 June 1961
"77 Sunset Strip" (1958/I) playing "Norma Kellogg" in episode: "Open and Close in One" (episode # 3.27) 19 March 1961
"Hawaiian Eye" (1959) playing "Gloria Matthews" in episode: "Robinson Koyoto" (episode # 2.20) 25 January 1961
"Surfside 6" (1960) playing "Merilee Williams" in episode: "Facts on the Fire" (episode # 1.16) 16 January 1961
"Alfred Hitchcock Presents" (1955) playing "Phyllis Kendall" in episode: "Summer Shade" (episode # 6.15) 10 January 1961
"Bonanza" (1959) playing "Helen Layton" in episode: "The Courtship" (episode # 2.16) 7 January 1961
"Michael Shayne" (1960) playing "Bea" in episode: "This Is It, Michael Shayne" (episode # 1.8) 25 November 1960
"Checkmate" (1960) playing "Janet Evans" in episode: "Face in the Window" (episode # 1.5) 22 October 1960
"Tate" (1960) in episode: "The Mary Hardin Story" (episode # 1.13) 21 September 1960
"Wrangler" (1960) playing "Eve Browning" in episode: "The Affair with Browning's Woman" (episode # 1.4) 25 August 1960
"Markham" (1959) in episode: "Crash in the Desert" 18 August 1960
"Rifleman, The" (1958) playing "Nora Sanford" in episode: "Nora" (episode # 2.35) 24 May 1960
"Hawaiian Eye" (1959) playing "Sarah Crane" in episode: "Murder, Anyone?" (episode # 1.28) 13 April 1960
"77 Sunset Strip" (1958/I) playing "Miriam Galbraith" in episode: "Safari" (episode # 2.22) 4 March 1960
"Alcoa Theatre" (1957) playing "Betty Fordham" in episode: "Minister Accused" (episode # 3.10) 8 February 1960
"Maverick" (1957) playing "Wilma White" in episode: "The White Widow" (episode # 3.19) 24 January 1960
"Cheyenne" (1955) playing "Irene Travers" in episode: "Gold, Glory and Custer - Requiem" (episode # 4.8) 11 January 1960
"Cheyenne" (1955) playing "Irene Travers" in episode: "Gold, Glory and Custer - Prelude" (episode # 4.7) 4 January 1960
"Alaskans, The" (1959) playing "Clara" in episode: "Doc Booker" (episode # 1.10) 6 December 1959
"Alfred Hitchcock Presents" (1955) playing "Peg Valence" in episode: "Dead Weight" (episode # 5.9) 22 November 1959
"77 Sunset Strip" (1958/I) playing "Marie La Shelle" in episode: "The Canine Caper" (episode # 1.32) 15 May 1959
"77 Sunset Strip" (1958/I) playing "Margo Wendice" in episode: "The Fifth Stair" (episode # 1.22) 6 March 1959
"Alcoa Presents: One Step Beyond" (1959) playing "Helen Archer" in episode: "Epilogue" (episode # 1.6) 24 February 1959
"Maverick" (1957) playing "Belle Morgan" in episode: "Brasada Spur" (episode # 2.22) 22 February 1959
"Frontier Justice" (1958) playing "Julie Brand" in episode: "Man of Fear" (episode # 2.16) 1959
"Man and the Challenge, The" (1959) playing "Linda Webb" in episode: "Experiments in Terror" (episode # 1.5) 1959
"Letter to Loretta" (1953) playing "Milly" in episode: "Strange Money" (episode # 6.11) 14 December 1958
"Goodyear Theatre" (1957) playing "Marion Ewell" in episode: "Points Beyond" (episode # 2.5) 8 December 1958
"Zane Grey Theater" (1956) playing "Nora Jepson" in episode: "The Tall Shadow" (episode # 3.7) 20 November 1958
"Alfred Hitchcock Presents" (1955) playing "Carol Longsworth" in episode: "Little White Frock" (episode # 3.39) 29 June 1958
"Playhouse 90" (1956) playing "Janice Ohringer" in episode: "The Dungeon" (episode # 2.32) 17 April 1958
"Zane Grey Theater" (1956) playing "Julie Brand" in episode: "Man of Fear" (episode # 2.22) 14 March 1958
"Letter to Loretta" (1953) playing "Paula McGill" (as Julia Adams) in episode: "The Hidden One" (episode # 5.12) 19 January 1958
"Climax!" (1954) playing "Coleen" in episode: "Two Tests for Tuesday" (episode # 4.6) 14 November 1957
"Lux Video Theatre" (1950) in episode: "Design for November" (episode # 7.37) 13 June 1957
"Lux Video Theatre" (1950) in episode: "Just Across the Street" (episode # 7.16) 10 January 1957
"Studio One" (1948) playing "Anne" in episode: "Circle of Guilt" (episode # 8.23) 20 February 1956
"Lux Video Theatre" (1950) in episode: "Appointment for Love" (episode # 6.6) 3 November 1955
"Your Show Time" (1949) (as Betty Adams) in episode: "The Tenor" (episode # 1.11) 1 April 1949